Esri ArcGIS Weather Layer
Unlock Spatial Intelligence: Harness the Potential of Synoptic Weather Data in the Esri ArcGIS Marketplace.

The ArcGIS Marketplace is a curated digital geospatial channel of system ready apps, content, solutions, and professional services from Esri's ecosystem of partners for ArcGIS users to identify and discover additional resources for ArcGIS software. The Latest Weather Observations product suite offers high spatial density, low latency weather observations across the United States to help improve situational awareness, risk management, and operational efficiency for customers in transportation, utilities, agriculture, and national, state, and local governments. Many common weather variables are a part of these products including visibility, road temperature, solar radiation, and 24-hour max/min values.
Getting Started
Synoptic Data offers a 14-day free trial to national and regional products. To start, find our products in the ArcGIS Marketplace by searching for "Synoptic" or "Weather Observations".
Click "14 Day Trial" and follow the prompts in ArcGIS Marketplace, assign licensing within the Marketplace Console, and start adding weather observations from Synoptic to new and existing ArcGIS Web Maps and Applications.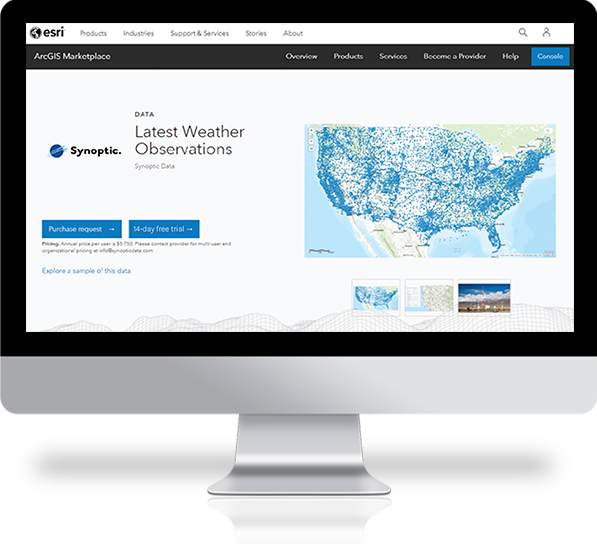 Ready to make smarter weather decisions?